WIAW – #4 (May the fourth be with you)
Sooo I know that meme doesn't really mean what I'm using if for -but eh' what the heck?!
I thought this fit the bill today as well 😛 …or maybe I'm just looking for any excuse to have coffee – ya definitely that last one!
Moving on!
The eats 'round these parts have been awfully delish these past few days, let me show them off!
Breakfast (my favorite meal-by far!)
 BREAKFAST COOKIE!
(recipe for this particular one coming soon)
…to accompany the cookie-
 Dinner (yes I'm from a farm in the Midwest so I call the noon meal dinner-NOT lunch, anyone with me?!)
*end rant*
 tator tot casserole (tried to mix it up and put sweet potatoes instead of tator tots, pretty good actually!)
Also feature: Homemade White Bread (dad's favorite so sometimes you just suck it up, put the whole wheat away and make it.)
Supper:
 some BBQ Beef Lo Mein! (recipe found here)
SNACKS!
This looks ubber odd – but bear with me…
it is a whole wheat tortilla, covered in equal parts peanut butter and yogurt then – sprinkled with chia seed, granola and bananas! SOOOOO good 🙂
And then a granola bar from 18 Rabbits  – review coming SOON!
So that's what entered my tummy, how bout yours?
~Thanks for the party http://www.peasandcrayons.com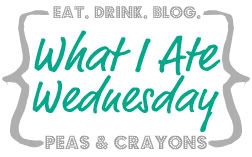 Happy Wednesday Everyone!!!
Blessings – Kris
---
---